So, technically I'm writing this on the second day of the new year, but I still think it's a good time for reflection. 2009 was a crazy year for us. Let me recap:
It was our first full year of marriage. Fell in love all over again.

My nesting instincts kicked in. And then instead of just stopping there, they exploded. I fell in love with design. By the end of 2009, I'd enrolled in interior design courses and had a clear vision for my future in the field.

In just 9 months, I spruced up our little suburban apartment with plenty of projects.
We house hunted long and hard. We had 4 (or 5.. I can't remember) full price offers in on homes.. only to hear that someone beat us to it every time. Then Z surprised me by telling me we could consider moving back to my home state- Maine. Sure enough, a month or two later, we packed everything we owned in a 26 foot moving van and moved 1200 miles away.

We got new jobs within a week of the move, and started settling into life in New England. We did a little house hunting, only to decide we wanted to build. We purchased 54 acres of land, but made our "home" in my parents' basement in order to save up for our house.

Whew! It is only by the grace of God that we've adjusted well to everything. This year was full of struggles and victories, hopes and dreams. We experienced some of the most extreme life changes: new marriage, a long-distance move, new career paths and jobs, and purchasing land (our first mortgage). Let's just say.. I've become pretty good at handling stress. :)
2010 is going to be pretty action-packed as well. Z and I will hopefully both be starting our own businesses this year. An ATV dealership for him, and an interiors business for me. This blog has sufferred a wee bit over the past few months due to all our changes, but I have big plans for it in 2010. There will be a few slight changes. You'll probably see a little more design chatter as I go through all my education, a few less home projects because we don't technically have our "home" yet, and a bit more house-building related content. Thank you all for reading Project Pretty in 2009- I hope you'll join us in 2010! Happy New Year!!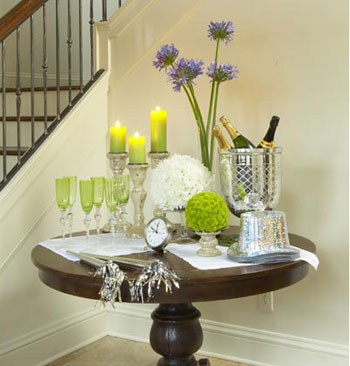 {photo credit: myhomeideas.com}