Appliances are something I won't even be buying any time soon (I'm thinking pouring the foundation should come first maybe??). But, that doesn't mean I haven't been looking! I've already decided on one thing- the layout. It needs to look like this:
I just love the 2-door fridge w/ freezer on bottom functionality. Genius. Then, there's the question of finish.
White?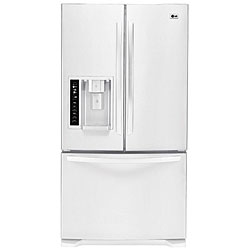 Black?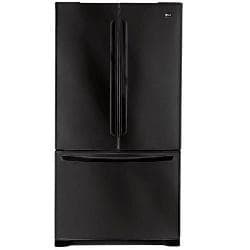 Stainless Steel?
Orrr.... stainless - look??
Personally, I LOVE the look of stainless steel. The only thing that was really holding me up though was how bad they show finger prints. And then I found it. The perfect, beautiful finish was staring me in the face at Lowe's. Stainless Look, people! Looks like it, but you don't see fingerprints nearly as much! *Swoon!*
So.. before I go ga-ga over stainless-look appliances.. do any of you own them? How have they worked out for you? Anyone reaaalllly love their black or white appliances and want to try and sway me?? Go ahead, tempt me! I'd love to hear all of your feedback on your appliances!