Sorry for the delay! The hospital experience is a bit different this time around. With Zane being much healthier, he's more active than before. But anyway, on to surgery news.
Zane had his right armpit/shoulder, elbow and wrist all released. They basically cut each area open, stretch it, and place new skin in that area.
Zane's upper right thigh was the donor site for this surgery. They took a pretty large area of skin, but it's not a really deep cut so it should heal relatively quickly. His right arm is all wrapped in wound dressings and ace wraps. Now, I'm probably identifying myself as a nerd by going into detail about all this but I know some of mom's nurse friends read this, so let's pretend it's for them and not just cuz I'm a nerd. :) They used THE COOLEST dressing on Zane's armpit release. They call it a wound vac and basically it's a big sponge they put over the grafted area. It's secured down with a clear adhesive sheet and there's a small tube attached through the sheet to the sponge. When the machine connected to the tube is turned on, it applies negative pressure, kind of a light suction on the area. That way, all of the blood and drainage doesn't just seep into a dry dressing, but is extracted away from the wound.
Okay, so how many of you did I just lose or gross out? :) sorry about that. I used to hate this stuff. I wanted nothing to do with medicine... And here I am just eating it up. Go figure. :)
Anyway, Zane is doing really well after surgery. He's dealing with some pain of course, but that's expected. His doctor has told us that he thinks the armpit and elbow release will really help, but that the wrist release probably won't do much for him. He thinks the restriction in the movement of Zane's wrist is mostly muscle and tendon tightness and not skin. So, that's something that Zane will just have to work on in therapy. It's been neat seeing all his old nurses. They put him back on the floor he was on previously, so there are a lot of familiar faces.
We are praising God for such a great surgery outcome. We waited in the recovery area for 8 hours on Monday and were getting a little antsy when we found out the reason it was taking so long was because they were getting Zane a private room. Does God take care of His children or what? He is so faithful.
Here's a look at Zane before surgery..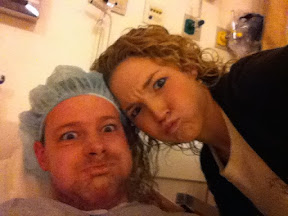 And after...
And lastly, here are a couple from today. We got him back in a t shirt and outside for a walk.
- Posted using BlogPress from my iPhone